What Can a Power of Attorney Do?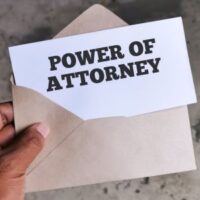 A power of attorney is a legal document that names a person to act as your agent. There are a number of different types of powers of attorney (POAs) recognized by Washington law. In estate planning, the two most common are a financial power of attorney and a power of attorney for health care.
Financial Power of Attorney
A financial power of attorney gives your agent the authority to manage money or other property on your behalf. In broad terms, your agent can:
open or close a bank account in your name;
make payments from any of your accounts;
make deposits to any of your accounts;
open and remove items from your safe deposit box;
buy, sell, or transfer title to stocks, bonds, or other securities in your name; and
buy, sell, or convey real property in your name.
You have the discretion in a financial power of attorney to grant your agent some or all of these powers. You may also wish to grant certain special powers to your agent, such as:
the ability to create, revoke, or terminate your living trust;
make gifts of your money or property to other people;
create, revoke, or amend beneficiary designations for your retirement accounts or life insurance;
waive your right to benefit from someone else's annuity or retirement plan;
if you are married, create, amend, or revoke a community property agreement on your behalf.
It is important to state in your financial power of attorney whether your agent's authority is effective immediately or only in the event your doctor signs a letter declaring that you are unable to make decisions for yourself. You may also declare that your power of attorney is "durable." This means that your agent will retain the authority to act in your name even after you are medically unable to make decisions.
Power of Attorney for Health Care
Similar to a financial power of attorney, a power of attorney for health care designates an agent. But in this case, the agent's role is to make health care decisions on your behalf. A power of attorney for health care generally takes effect only when you become too sick or injured to express your own wishes to your doctors.
In addition to the power of attorney, you can also sign a Health Care Directive and a Portable Orders for Life-Sustaining Treatment (POLST) form. A Health Care Directive, sometimes called a "living will," provides instructions regarding any end-of-life care that you wish–or do not wish–to receive, such as artificial nutrition or hydration. A POLST form serves a similar function, although it must be signed by both you and a qualified health care professional. The POLST form is meant to be part of your medical file.
Having a Health Care Directive and/or POLST form is not a substitute for a power of attorney for health care. It is still important to designate an agent who can consult with your providers when it comes to decisions that are not covered by your advance instructions.
Consult a Spokane Estate Planning Attorney Today
Everyone should have both a financial and health care power of attorney as part of their overall estate plan. If you need legal advice or assistance in preparing these documents, contact the Spokane power of attorney lawyers at Moulton Law Offices today. We serve clients in Spokane Valley, Kennewick, and Yakima.