Matthew Luedke Selected to 2022 Super Lawyers Rising Stars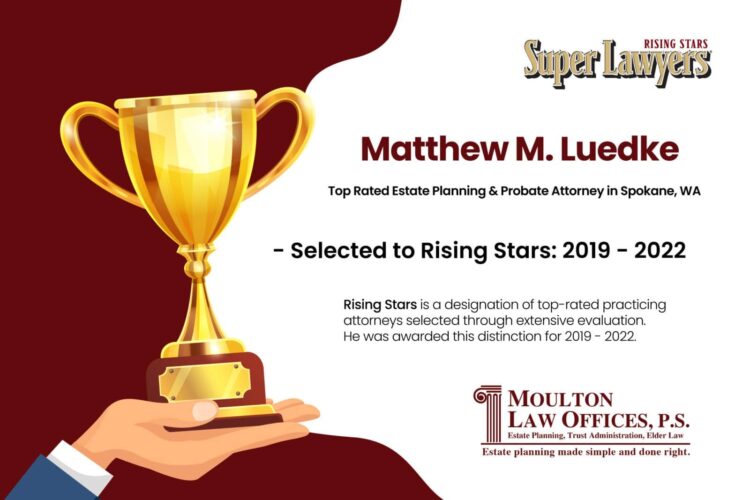 Please help us congratulate Matthew Luedke on his nomination to the  Super Lawyers  of Washington 2022 Rising Stars. This distinction is awarded to our state's top-performing estate planning attorneys to recognize them for excellence. This is now Matthew's  4TH  overall nomination to the Super Lawyers list.
If you have a moment to give Matt a few words of encouragement or congratulate Matt, he would certainly appreciate your support, particularly in the form of a  Google review  – which will help him continue to provide excellent support and guidance as more folks will be able to find our office with your assistance!
Super Lawyers Rising Stars – Selection Process
The selection process for the Rising Stars list is the same as the Super Lawyers selection process, with one exception: to be eligible for inclusion in Rising Stars, a candidate must be either 40 years old or younger or in practice for ten years or less. All attorneys first go through the Super Lawyers selection process.
Great job, Matt! Those who are not selected to the Super Lawyers list but meet either one of the Rising Stars eligibility requirements goes through the Rising Stars selection process. While up to five percent of the lawyers in the state are named to Super Lawyers, no more than 2.5 percent are called to the Rising Stars list. You can see what a fantastic accomplishment this is after understanding these stats.
Please use our  Google Maps  listing to share a few words about your experience with Matt to help out, or send an email to the office to let us know your experience (though the review is undoubtedly more helpful!).